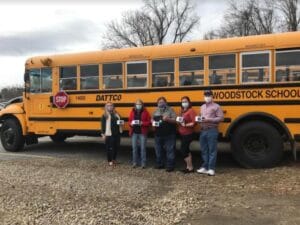 WINY RADIO
FROM THE NEWSROOM: FROM WOODSTOCK SAFETY PATROL: Woodstock School Buses Soon to Have Dash Cams
When a Woodstock school bus was passed on the passenger loading side last fall by an irate motorist, bus driver George McCoy made an offer to his supervisor, Dattco Transportation Woodstock Terminal Mgr. Jerilyn Dupuis, to have the Woodstock Safety Patrol shadow school buses in an effort to catch motorists who unlawfully pass school buses during pick-ups and drop offs.
McCoy at that time was also president of the Woodstock Safety Patrol and quickly recruited local resident Leslie Holland for the task. It soon became apparent to Ms. Holland that following school buses might not be the most effective way to catch red light violators.
Holland suggested to McCoy that dash cams might be more effective and require less manpower than having volunteers spend hours following buses. Ms. Holland also offered to donate the first three cameras.
After getting the go ahead from Woodstock School Superintendent Viktor Toth and Dattco's corporate office the first two cameras were installed on two of the Woodstock school buses on Wednesday March 24th.
McCoy posted the news on the Woodstock Proud 2.0 Facebook page and within minutes town residents were offering to donate more cameras. McCoy contacted the new president of the Woodstock Safety Patrol, Dr. Jeffrey Gordon, as well as WSP Secretary Jen Beams to see if the WSP could help coordinate the receiving of donations as the WSP is now a 501(c)3 charitable not for profit and could give residents a receipt for tax deduction purposes.
"Jerilyn Dupuis and I were overwhelmed at the fantastic amount of offers that were coming in. I realized we needed help coordinating the fund raising. Dattco cannot accept money and in fact, although they are readily installing the cameras on their buses, Ms. Dupuis made it clear the cameras belong to the Woodstock Schools, not Dattco", McCoy said.
Thanks to some quick work by WSP Secretary Jen Beams, an online funding system was shared with town residents on Facebook and donations quickly began to come in. Some residents have even purchased cameras and are bringing them to the Dattco office.
According to Ms. Beams, as of Friday evening it appeared there might be enough cameras already purchased, combined with cash donations coming in, to outfit the town's 17 school buses. She will know in a few days once the tally is completed.
"This is another wonderful example of how people in our community quickly help out a good cause.  Thank you to everyone who has donated to get the dash cams for the school buses.  Thank you as well to the members of the Woodstock Safety patrol who are doing their part to help keep Woodstock safe," said Jeff Gordon. 
"A driver cannot react quickly enough to always get a license plate number. Our first priority is the safety of the students themselves. By the time we are certain that the students are secure and accounted for, the offending motorist is long gone. This is a serious problem in Woodstock, especially on my route which covers CT-Route 197 and 169. High speed traffic is very dicey to deal with when making stops on these roads. Some people think they can just run the bus stop as they would a red light. What they fail to think about is that a child could be killed by their actions. In fact, a child was killed in town many years ago during a bus stop. We all want to prevent that. I think if people know the school district and Dattco with community support, are taking a pro-active, zero tolerance approach to this problem, they might be less inclined to do something foolish, illegal and potentially deadly", McCoy stated.
Photo participants:
L-R Jen Beams, Leslie Holland, George McCoy, Jerilyn Dupuis and Dr. Jeff Gordon